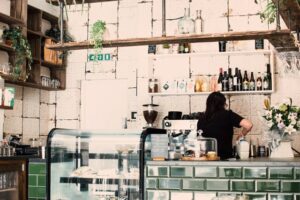 What makes different coffee shop experiences unique? Perhaps one coffee shop uses in-store signage that's hand-written and serves drinks in mismatched ceramic coffee cups. Maybe another coffee shop is an international franchise whose in-store experience is pleasant and consistent but somewhat unremarkable. What about airline experiences? An airline's app that features fun copywriting, interesting travel images, and contests keep it fresh and interesting. In both of these examples, the experience made possible by design sets each business apart, making it more likely that customers will come back.
Design and "experience" are inextricably connected. Every time a person uses a product, service, or system, they are an actor in an experience design scene. Sometimes these scenes are relatively mundane, like shopping for bananas or checking the weather using a smartphone. Other times, experiences are unique, once-a-year events where the experience, itself is "product." Designers are increasingly involved in designing the scenes where and when experiences happen.
Experience scenes are increasingly the focus of the design process. Advertisers promise a new car will produce driving experiences like no other. Software corporations tout their operating system is an effortless user experience. Airbnb's smartphone app allows users to book experiences as well as vacation home rentals. Designing for experiences disrupts siloed design fields by focusing on a person's experience instead of the materials and processes of the design outcome. Form-first design fields are insufficient when designing for experiences.
An experience mindset means that designers are not interaction, communication, or industrial designers first, though they may apply methods from each of these design fields. Instead, designers and the car makers, coffee shops, and governments they partner with are in the business of creating outcomes that facilitate ways people think and feel. As designers continue to design for engagement, such as designing services or around challenging topics for social good, a better understanding of experiences and the people who experience them is needed.
Visit AoE4D.com for more on designing for rich user experiences.