Learning design isn't limited to a classroom, an age, or a location. With design outcomes dotting most people's daily interactions, it's possible to encounter the effects of design decisions almost everywhere you go. However, design educators facilitate experiences that make design decision-making tangible, encouraging learners to expand their design skills, thinking processes, and comfort with experimentation and research.
Design Thinking, Knowledge & Skills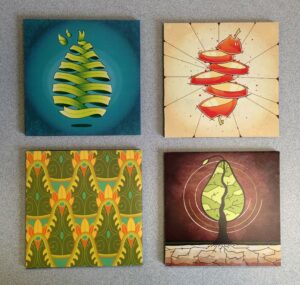 At the most basic level, design knowledge in areas like computer software, materials, best practices, sustainability, aesthetic acuity, and production is often at the core of design education. Learners engage with and practice skills necessary for the production of design outcomes of all types. Through analyzing previously produced work and also developing their own design outcomes in studio environments where discussion and critique take place, learners apply their growing knowledge to produce a body of work. This work serves as evidence of their learning and also their ability to apply that knowledge in practice. However, inherent in any iterative process is the fact that the latest design is just a stepping stone on the way to developing future outcomes that build upon previous lessons learned.
Design Thinking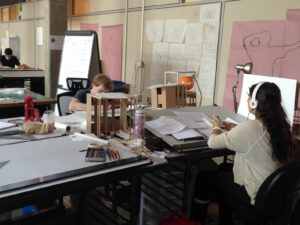 Designing seldom starts with a neatly defined problem, a clear path to solving that problem, and a final outcome that is neat and tidy. Design learners practice design thinking by growing their ability to frame problems through gathering evidence and details in a given context. This involves observing trends and behaviors, asking questions of clients and/or stakeholders, and making connections between gathered information and stated goals. During the process design, learners create prototypes, test them, and then design new prototypes based on their findings. As an iterative process, designing is seldom if ever "finished". Rather designers aspire to produce the most successful outcome possible in order to reach stated goals and to most appropriately identify with the needs of stakeholders.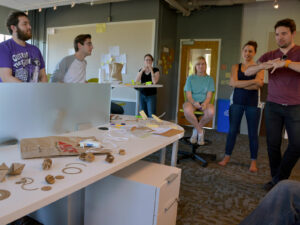 Design educators develop and facilitate learning experiences that challenge learners to both do design and to think design. Design classrooms and studios are places where questions are asked about why societies make the things and services they make and what those products mean for the future. Learners grapple with ethical design concerns like consumerism, equal access, and cultural relativism. Preparedness for careers in design practice is a focus of design education, but so is preparedness for being citizen designers who recognize their responsibility to others as shapers of culture. Design education is the place where the future of design is shaped, brought about through educators who are well-versed in the present but also raise awareness of how fast the present changes.