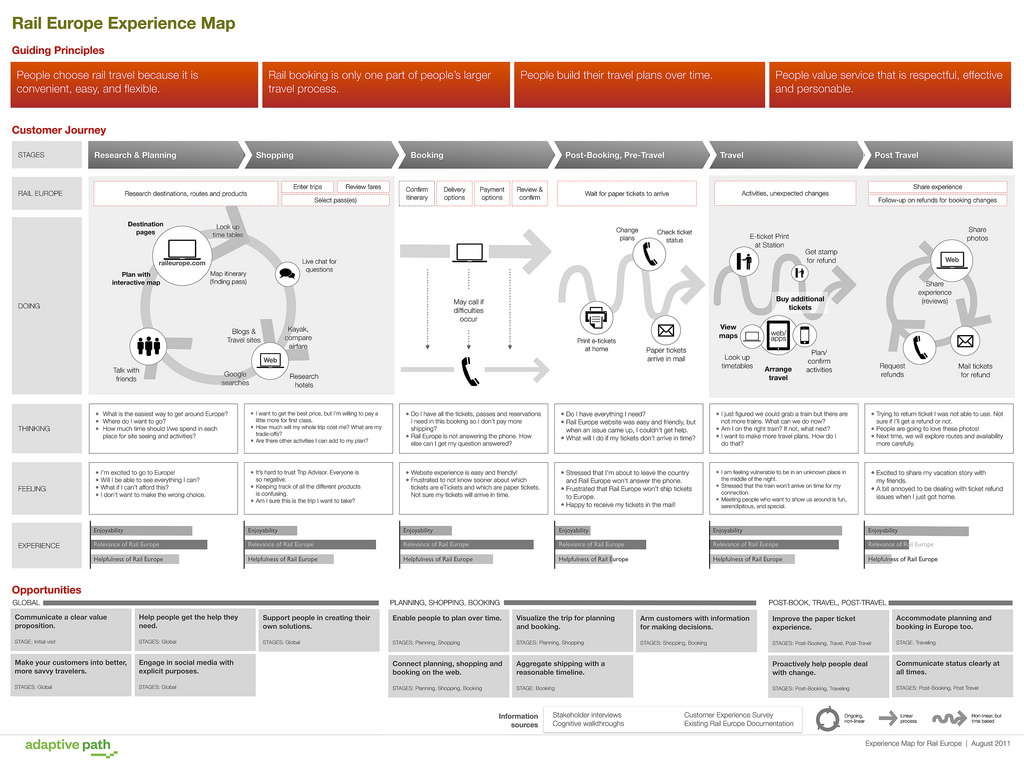 When we are designing for experiences, we're interested in people's total, holistic experience when they encounter design outcomes. How people feel as they interact with a design is right up there with how well it gets the job done. Simple thumbnails no longer suffice. Storyboards are close, but they can't capture how people feel and think while they are doing. In order to faithfully capture the details of experience design—its intended and unintended consequences—it is necessary to map time, space, and emotions. It's necessary to visualize the intangible. An Experience Map is needed.
Experience maps attempt to capture how people interact with design and what comes from those interactions. In order to do this, they always involve at least these three components:
the person/people
a design intervention
time/sequence
Experience maps also attempt to capture what the experiencer (usually a person) is thinking, feeling, and doing. Experience Maps can be created as an aspiration (before the design is implemented) or as a report (about stakeholder experiences with existing design outcomes).
Experience maps depict what happens when a customer, client, or user encounters the intervention (design) and what comes from these interactions over time. When it comes to experiences, many different outcomes can be triggered when people interact with a design. The goal of the experience design is to visualize these outcomes as clearly as possible for stakeholders.
Mapping Scenarios
For example, an experience map could depict where a bank customer goes when they enter a bank building if they are trying to get a roll of pennies exchanged. It could show the steps a caller goes through when they call a customer service phone line to change their flight reservations. These maps may document the experience of visiting a LEGO store for someone who:
has never played with LEGO
is returning an item
does not speak English natively
is using a wheelchair
is a LEGO Club member
…and a wide range of people in-between. In a LEGO Store experience map, every detail for different people/users of the store can be planned to meet these peoples' needs while still creating an atmosphere of innovation and creativity consistent with the LEGO brand.
Experience maps make interactions real by clarifying the intended consequences of design decision making.
In her post titled Why we use user journey maps in government, Kate Ivey-Williams at GOV.UK shares some great insights into experience maps (which are sometimes called journey maps, customer journey maps, and customer experience maps).
the things being built across government will usually be a component of bigger services, which are also a part of a user's broader journey

they show you how your service or transaction fits into this bigger service and highlight what other things might need to change, and who you need to be talking to in order to make those changes happen

they help you to have those conversations about what needs to change because you can print out massive user journey maps and stick them on a wall
Those all sound like really valuable things for any kind of screen-based or physical service, don't they? Read the entire post at GOV.UK.
How to Make an Experience Map
There is no "right" way to do an experience map. As you develop these maps, you will begin to get a feel for how much information is too much and how much is too little. What's most important is that the map is the right amount of fidelity so interactions are accurately captured. The best way to get to know experience mapping is to learn from the people who make them every day. Here are a few experts whom you can learn from.
Adaptive Path is was a leader in User Experience and Service Design. Grab Adaptive Path's Guide to Experience Mapping. It's free. It's a PDF. It's a must-read.
Read Customer Experience Maps: 8 Things You Should Know, a guide developed by Spotless, a Service Design Agency in the UK. This post outlines the entire process, including key components of an experience map.
Governments are services. GOV.UK's blog, Design notes features a post titled How to make a user journey map that shows a clear, step-by-step process you can follow.
Experience Map Starters
I've created a few starters below to show some possible details to include in experience maps.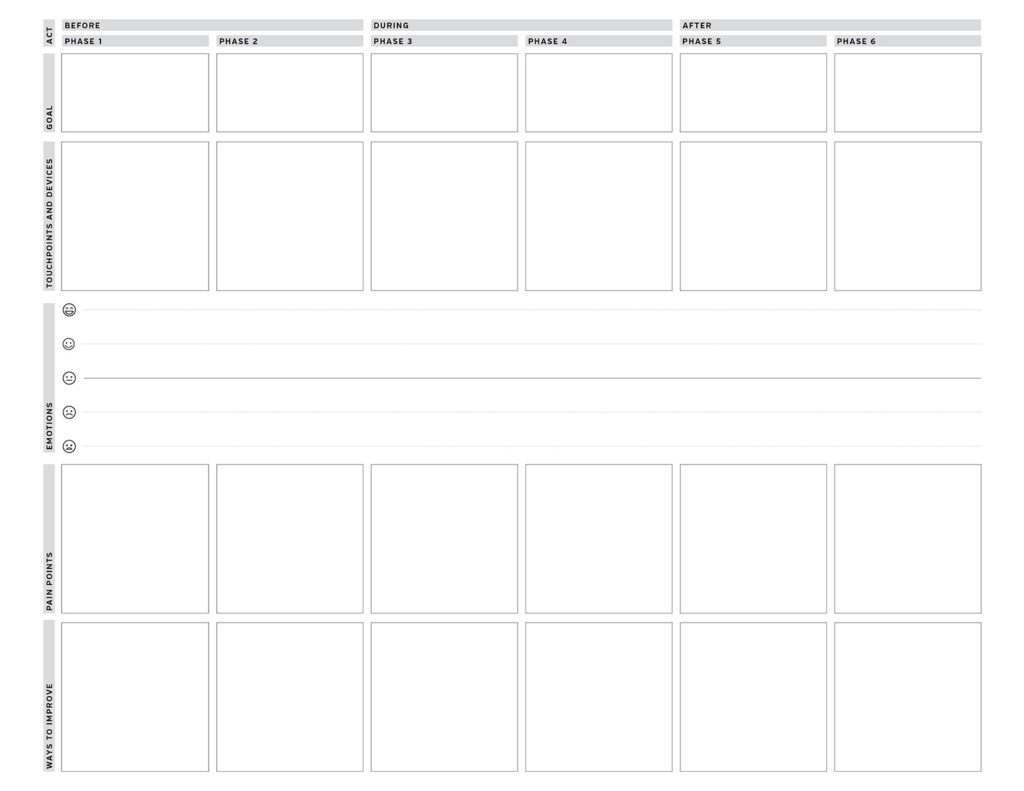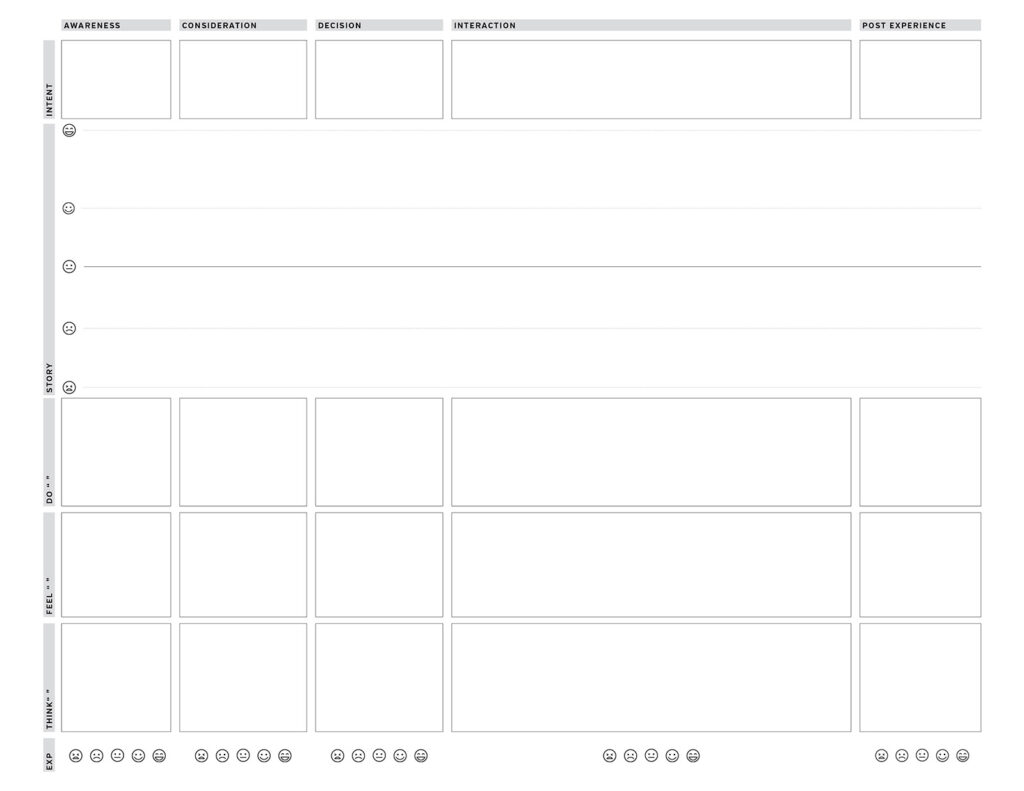 Experience Maps, Applied
Adaptive Path's video, Mission Bicycle Retail Experience is a great introduction to the work you already know so well—design research. This video connects research with designing to clarify how they go hand in glove, or peanut butter in jelly, or Alabama in Louisiana, or… you get what I mean.
Read about the whole process from start to finish in Exploratorium: Mapping the Experience of Experiments from Adaptive Path. It's a story of a museum that's cooler than just a museum and how experience mapping was part of the process.
Paul Boag's How to run a customer journey mapping workshop is an introduction to collaborative mapping. As projects get bigger, more people must be involved in the mapping process.
Have you noticed the common denominator that connects all experience maps? It's people. That means any experience map has to involve people in some way. Oftentimes, experience maps are developed collaboratively with stakeholders.
Collaborative Experience Mapping
At Dutch Design Week in 2017, Essence Service Design decided to invite attendees to become part of the mapping process to explore improving public transportation. Their post, Crowdmapping the Passenger Experience, demonstrates a fascinating approach for including stakeholders directly in service design.
So Many Maps… So Little Time
Mapping is a big deal. It allows us to make interactions more tangible for stakeholders—especially those who aren't familiar with the design-ese we can be so accustomed to. But what kinds of mapping should you use? Nielsen Norman Group (the "Norman" is Don Norman) has a great post titled UX Mapping Methods Compared: A Cheat Sheet that can help you select which type to use.
Tools, Tidbits, and Examples A-plenty
A few more resources for experience mapping. Enjoy.
Experience Maps Resources
Remember, there is no "right" way to make an experience map. Create a map that matches the activity, demonstrates a person's intended experience, and shows how the brand promise "holds up" during the journey.
The Design Workbench page of Experience Maps on Pinterest
Go Big
Use color, logos, imagery, and other content to develop visually engaging maps that communicate effectively.