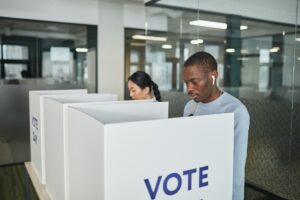 The last time you used Uber, Airbnb, or got a coffee at a coffee shop, you used a service design. Services can be challenging to understand because they have "stuff" that's designed like brochures, smartphone apps, or interiors, but the "stuff" isn't the real "product." The stuff just helps people complete an activity but the service, itself is the most important design. Nielsen Norman Group (The "Norman" is UX Guru Don Norman) has a lot of good stuff to say about Service Design. Their summary definition is a great starting point for understanding service design:
Service design improves the experiences of both the user and employee by designing, aligning, and optimizing an organization's operations to better support customer journeys. (Nielsen Norman Group)
So… experiences are the real focus of service design. We want users (visitors at a museum, Miami University students ordering coffee, listeners using Spotify) to have a meaningful experience. Ingredients in this recipe for improved experiences include:
Goals and activities: what people want to get out of the service
A process: what steps people will take to complete the activity
Employees, interfaces, products: the people, physical objects, and screens involved in making the activity possible (and unique!)
Services start with research so designers can learn what people want and where breakdowns happen in existing services. Design Council from the UK created a helpful overview of Service Design:
Service Design can sound a lot like designing for a theme park or a theater production. Terms like "backstage" and "frontstage" are used to delineate who does what. Read Nielson Norman Group's article Service Design 101 to learn more about service design.
Also, check out Nielsen Norman's video: Why Service Design.
Mapping Services
Services can be challenging to visualize and plan. After all, the "thing" you are designing for services is a process (supported by designed things, referred to as props). Check out the page on Experience Maps to learn ways to make services and experiences "real" and more understandable. Mapping is especially valuable for stakeholders who may not be designers and in turn, may have a hard time understanding how service design works.
Service Design Outcomes
A few Service Design outcome examples:
Buying coffee at a coffee shop
Getting a driver's license at the Department of Motor Vehicles
Voting
Booking a vacation rental